UMSL String Camp 2023!
Join UMSL's Director of Ensembles, Dr. David Wacyk and the internationally acclaimed UMSL String Faculty, the Arianna String Quartet, for a fun and rewarding string camp experience! The 2023 UMSL String Camp will be a three-day workshop held in the beautiful Touhill Performing Arts Center, offering technique classes, guided practice sessions, instrument masterclasses, and orchestra skills sessions.
Don't miss this opportunity to work with Dr. Wacyk
and the members of the Arianna String Quartet!
Arianna String Quartet,
UMSL String Faculty
UMSL String Camp
June 3-5
9:30 am – 3:30 pm
Tuition: $400
Scholarships Available!!
Open to Violin, Viola,
Cello and Bass Students
*On campus dormitory accommodations are available for an extra cost.
(RA's will schedule fun, musically-based
evening activities for resident students.)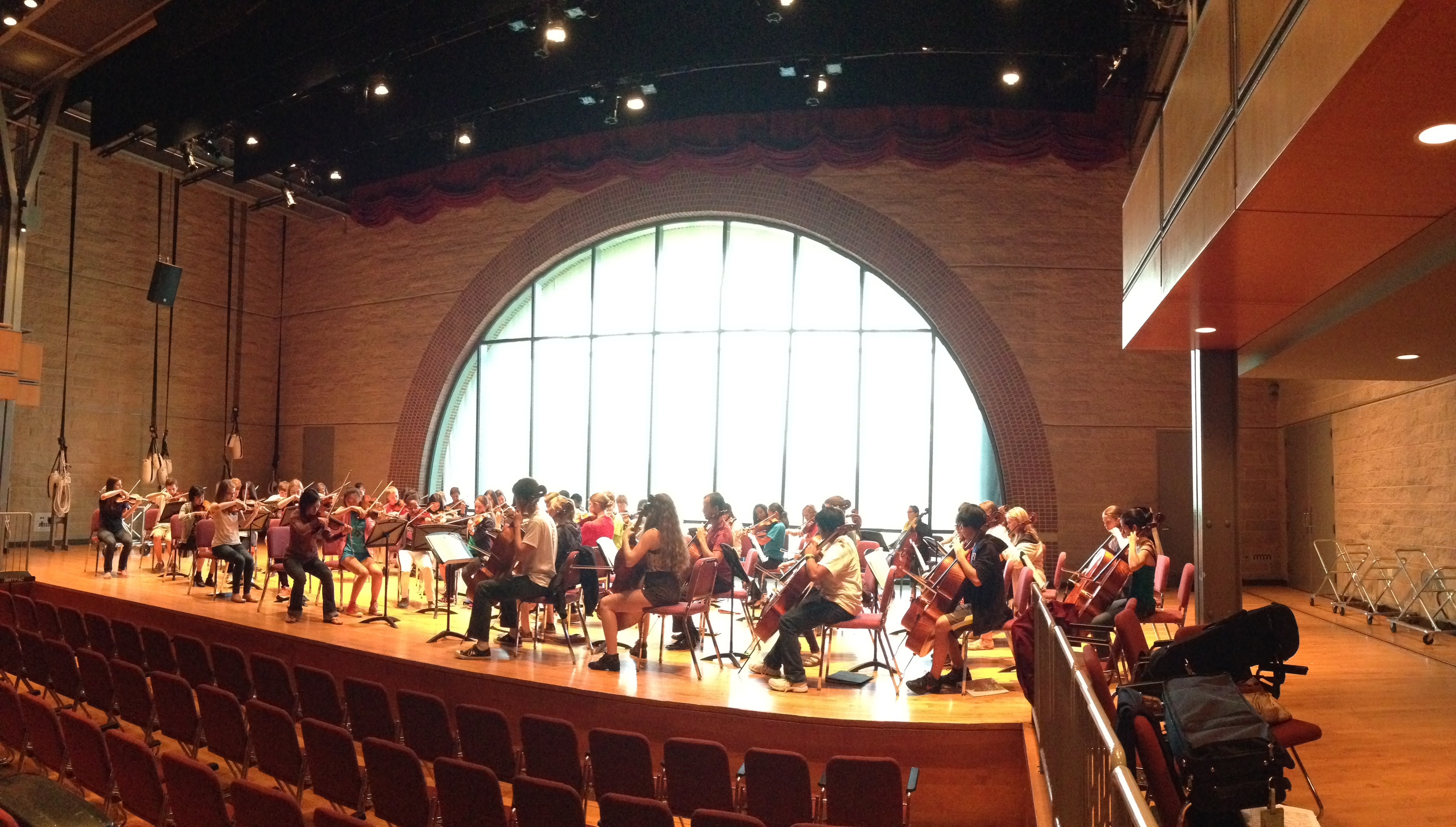 Recommended ages: 14-18
If you have any questions, please contact Professor Kurt Baldwin at baldwink@umsl.edu.
Registration and Representative Video Recording
(no auditions necessary):
As part of your registration, you will be asked to include a 2-5 minute video of your playing. There are no specific requirements; submit any piece that best represents your playing at this time. Your submitted video is not an audition, but simply an important opportunity for us to get to know you and your playing before we all meet for camp!
Please complete REGISTRATION by Friday, May 19th.
You may pay online, or by check.
If paying by check, please make checks payable to
'UMSL Music' with "String Camp" on the Memo line, and mail to:
University of Missouri-St. Louis
Music Department
One University Blvd.
130 AAB
St. Louis, MO 63121
* Scholarships Available! *
Daily Presentations:
Performances and presentations by the Arianna String Quartet
"Posture and Athleticism with Our Instruments"
How we move is how we sound. This fundamental aspect of string playing can be neglected in our quest to play the notes we see on the page! In this workshop we will reconnect with basics of posture, movement, and how we interact physically with our instruments to sound our best!
"Finding Comfort with Your Bow and Sound"
As soon as we start playing notes, our left hand activities can take up to 100% of our attention. But it's the right arm that actually produces our sound! By learning to focus on our tone production and the movements of our right arm, elbow, wrist and fingers, we can find new freedom in our sound, and begin to explore the expressive potential of the music that excites us.
"Efficiency and Effectiveness with Scales and Shifting"
Spending time with scales is the best investment to achieve left hand comfort and balance and variety in the bow. But playing the notes in the scale is not enough! We will explore the ideas behind effective scale practice that will unlock a new potential for joyful playing, and make every note on your instrument more accessible.
"Vibrato!"
Who DOESN'T have questions about vibrato? An essential part of playing beautifully, it can also pull us off balance or lead to left hand tension that interferes with our intonation or passagework. We will present practice strategies and talk about the essential motions of vibrato and how they relate to other healthy aspects of left hand technique so you can achieve an expressive and professional sound with less effort.
"Building Your Practice Routine"
Practicing a string instrument is a complex process. Done well, your mind is always engaged and you will start to see your improvements quickly. In this workshop, we will show you effective ways to structure your time, vary your activities, and achieve reliability and comfort in your performances.
Masterclass
Beyond the technical requirements and challenges of the solo music we play, there is an expressive message of each piece that requires us to understand the character of the music, what it has to say. Getting this message across requires us to think creatively about what excites us about music, and to shape our sound according to the phrasing of the music to excite our listeners. In studying these aspects of the music, we go beyond technicians of our instruments, and become expressive performers.
Culminating concert presentation for parents, family and friends on our last day of camp!
Sample Daily Schedule-
9:30-10 Group warm-up
10-10:30 "Posture and Athleticism with Our Instruments"
10:30-11:15 Instrument Class
11:15-12 String Orchestra
12-12:45 Lunch
1:00-1:30 "Efficiency and Effectiveness with Scales and Shifting"
1:30-2:15 Instrument Class
2:15-3:15 String Orchestra
3:15-3:30 Summary of the Day